Independent travel around Australia and overland through Asia to Europe and back.

Ali and Julian have been retired for a few years and just like travelling. A Kiwi and a Pom who are also Aussies and brought two daughters up in Aus. We are possibly amateur 'ologists. An interest in everything, masters of nothing.

Tardis is a self built, self contained, self sustaining, spacious, 4.5 tonne, 4wd motorhome. It needs diesel, water, sunshine and food. No gas or shore power. It creates only exhaust fumes, waste black and grey water, and waste packaging. Built with the intention of extended travel in Australia (home country) and possibly Asia to Europe return. Before you ask .... "Travelling Around Remote Destinations in Style". Of course we are Dr Who fans. It was rather kindly named because of the apparent space inside.

Invited to niece's Scottish Wedding while on first trip in Aus we decided to drive there (thanks Kirsty for planning so well).

These pages are for the build project and subsequent travels. Chronological order - latest at the bottom. How ordinary!

There's an automated satellite tracker (thanks Dave, we would have been lost without you!) for the Asia - Europe trip so everyone knows where we are before we do. And a few lat/long coordinates and maps for where we stopped.

Latest News
No current latest news!

Contact
email tardis at epicycles.com with the usual @ instead of " at ".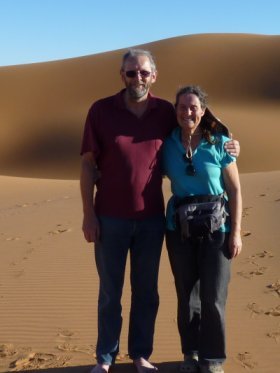 Erg Chebbi, Merzouga, Morocco, January 2013.
Banner is from Mt Hoverla, Ukraine, October 2011.